Falastin, by Sami Tamimi and Tara Wigley
More than a cookbook
Today I'm going to tell you about a beautiful book that I had the chance to discover. We are talking about food, of course, but not only: Falastin is an invitation to travel to Palestine, a culinary and historical discovery through recipes, anecdotes and life stories. In charge of it is Sami Tamimi, renowned chef and Y. Ottolenghi's henchman, and Tara Wigley, a member of the Ottolenghi team, who has swapped the publishing world for the kitchen atmosphere. You have already heard both names before, I am sure, from their collaborations in Y. Ottolenghi's restaurants and published books.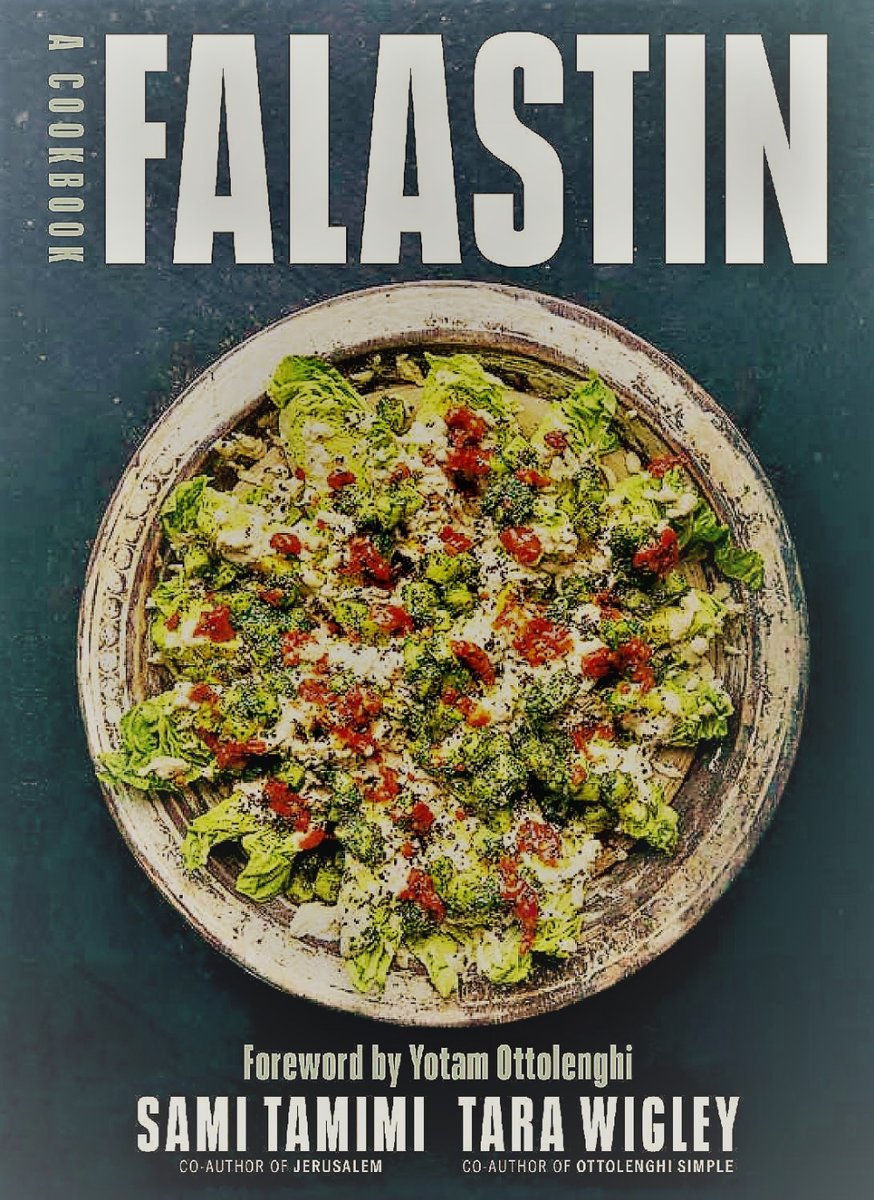 You already know my interest in Oriental cuisine, so this book was bound to appeal to me. But I found there much more than what I was expecting from a classic cookbook, thanks to the stories told by Tara's beautiful pen. Stories of women, men, families, and villages. Touching stories, sometimes sad but also full of hope. It is impossible to despise the conflict in which these people live, but we must not forget their daily lives, sometimes as simple as ours: families, friends, work [etc.] and, of course, meals. I even discovered that I share my increasing freezing practice with Palestinian families!
As soon as I opened the book, I felt transported. The beautiful, colourful and tempting photos [don't tell me you don't want to dip a piece of pita in these dips! ], and the recipes with the most tempting titles, one better than the other, can only enthrall and board you into the falastinian universe. Palestine, we talk a lot about it, but we know very little about it. I am definitely conquered by this book and delighted to travel to this universe, at least in my mind and dishes.
The recipes
The book is divided into nine categories [breakfasts, snacks/dips/sauces, vegetables & salads, soups, veggie dishes, fish, meat, bread & pastries and desserts], representing a mixture of traditional recipes and the ones revisited by the chef. Every recipe starts with a short presentation, a personal anecdote from the authors, tips to facilitate the preparation organization [really appreciated by the busy mom, thank you] and some options for variations. Then comes the recipe itself. I was expecting complex recipes… and no! The recipes are overall simple. Well-detailed with clear instructions, and they are easy to follow. Surprise, the ingredients are pretty common and easily found in our grocery stores. Reading through the book, we discover the existence of ingredients with more exotic names, and the authors had no choice except to exclude them. The exclusivity to their regions would not allow us to find them here, and no local equivalent could replace them. Of course, you will need to have a good supply of spices, especially the famous Zaatar, and have a serious stock of tahini [sesame paste], but this was expected.
I feel you are starting to tremble with eagerness; maybe it is time to discover a nice recipe from this book. Sure, I know you are just waiting for this!

Honestly, I had difficulty deciding which recipe I would try first. So, I decided to involve my husband, but it was also complicated. We finally decided to select two recipes. My love for bakery and brioches inevitably took me down the path of tahini and sesame brioches. And his pronounced taste for beets took us to the Beet, Feta, Zaatar and Honey Rustic Pie [and my curiosity for this combination… let's admit it is intriguing].
Today, the little brioches will be opening the menu, but you know what: tomorrow, I have another free day, so the pie is planned [the dough is already resting in the refrigerator].
About the Tahini and Sesame Brioches
Well, it's a classic brioche recipe. We can easily comprehend why everybody appreciates them, especially the children [mine loved it, "it's very, very good" according to the words from the kids]… The cinnamon digs memories out by reminding us of our cinnamon rolls, but the tahini/sesame takes us elsewhere. A mixture of 'déjà vu' and exoticism.
There is no complexity in this recipe; the resting time is always very long when preparing brioches. I needed to take this book to make me buy instant yeast [I'm on the baker's fresh yeast team]; I must admit that it saves time. I am still thinking if I would redo this recipe using my usual yeast, increasing the rising time or even making them with my sourdough; I'm already drooling…
Tahini and Sesame Brioches
Small brioches that remind us our cinnamon rolls but with a touch of exoticism given by the tahini and the sesame.
Print Recipe
Ingredients
For the dough
300

g

flour

110

ml

whole milk

warmed

1

sachet

instant yeast, fast rising

(7 à 8g)

1

coffee spoon

sugar

75

g

butter

melted

1

eggs

slightly beaten

1/2

coffee spoon

salt

oil

to grease the bowl
For the filling
120

g

tahini

100

g

sugar

1

coffee spoon

cinnamon
For finishing
1

egg

beaten

1

Tbsp

sesame seeds
Instructions
For the dough
In a bowl, pour the warm milk with the sugar and the yeast. Mix and set it aside about 5 minutes (until the mixture is foamy).

In parallel, put the flour with the salt in the bowl of the mixer. Start mixing at low speed. Gradually add the milk/yeast mixture, then, the melted butter and let it mixing for 1 minute.

Pour in the egg, then, increase the speed of the mixer to medium and let it knead for 5 minutes.

Take the dough out and form it into a ball. Place it in a greased bowl, cover with a clean cloth and let it raise for 1 hour.

The dough must double its volume.
For the filling
In a bowl, mix the sugar and the cinnamon. Set it aside.
Assembling
Cover your baking sheet with parchment paper.

On a floured work surface, roll the dough out into a large rectangle (about 35 x 50 cm).

Cover the dough surface with the tahini (leaving free a small border of 1 cm)

Sprinkle the surface with the sugar/cinnamon mixture. Let it stand for 10 minutes, so the sugar adheres to the tahini.

Lift up one of the wider sides of the dough, and roll it to form a closed roll. Trim the edges so they are uniform (I keep them for baking, they don't look beautiful but they are just as good)

Cut into slices of about 4 cm (I do this by eye). This should give you 10 pieces.

Turn your pieces over (to see the snail shape), and slightly flatten them with the rolling pin (the filling might escape out a bit, so clean your rolling pin if necessary, otherwise your little brioches will be covered with the filling, which is not so aesthetic). Place the brioches on the parchment paper (on the baking sheet). Cover with a clean cloth and let them stand for 15 minutes.
Finishing
Preheat the oven to 180°C (350°F).

Brush the brioches with the beaten egg, then, sprinkle the sesame seeds.

Take them to oven for 18 min (or according to your oven, until they get a nice golden-brown color).

Let them cool down before tasting.